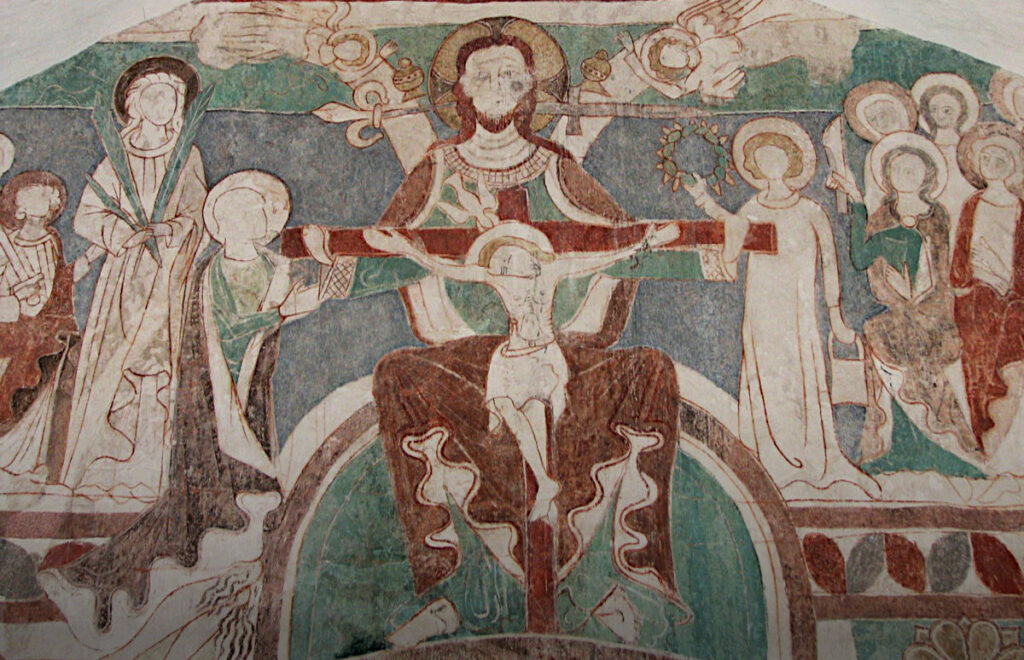 "And not only so, but we glory in tribulations also: knowing that tribulation worketh patience; And patience, experience; and experience, hope." (Rom. 5:3-4)

I am sometimes asked why there is still suffering if Christ has taken the punishment for our sin at the cross. This simple but powerful question is, of course, an ancient one with no easy answers. Early theologians (e.g. Clement of Alexandria) often argued that tribulation and suffering are simply the product of human sinfulness or that God chastises and disciplines people (Christians and non-Christians alike) in order to convert them so that they can be saved. This may sometimes make sense, especially retrospectively. It seems, however, that this response only raises a whole range of new problems about the pedagogy of God and the adequacy of Christ's work. Perhaps more importantly, it may not feel very helpful to hear that the suffering you experience is your own fault or comes from God trying to improve you. Rather, what we need to hear is that we are already at peace with God in spite of everything that we experience to the contrary. Besides, it seems that we know from many examples that suffering and hardship does not necessarily improve a person but can just as easily make us bitter and resentful.
In his death and resurrection Christ has put an end to humanity as we know it and created a new humanity in his image (2 Cor. 5:17). This was theme that ran through most of Karl Barth's commentary to Paul's Epistle to the Romans. The inadequacy, tribulation and corruption of all human beings are products of sin that constitute their curse and destiny, says Barth, but in Christ all are renewed and clothed with righteousness (Romans 1933, p. 181-2). The fact that we are already new beings in Christ does not, however, mean that we can avoid suffering and tribulation. Faith does not take us out of the world but gives us a new perspective on the world. Faith is about seeing the 'yes' in the 'no'. Only through the negation of death and the cross can we perceive the new creation in Christ. This is why Paul can say that we "glory" or "rejoice" in tribulations (Rom. 5:3). Tribulation produces patience and hope, not so much, however, because it improves us or makes us more virtuous, etc., but because through faith it reveals a different reality on the other side of suffering (i.e. it's not about being made stronger by what doesn't kill you, but about seeing the new creation beyond death). Neither is the gospel a version of the claim that there must be something meaningful in the meaningless after all, but that meaninglessness in spite of all its cruelty does not get the last say.
In other words, the gospel does not remove suffering, but it does transform it in a way that makes hope possible in the midst of suffering. Not so much because God uses suffering to make us more virtuous or pious (although that can certainly happen sometimes!), but because suffering is only one side of the coin, the 'no' that indirectly reveals God's 'yes' that has already been spoken once and for all in Jesus Christ. That we are, for this reason, not removed from the world and its problems, even if we have an entirely new perspective on the world, is also why it makes sense to take up our responsibility in doing something about the suffering that we experience. We can do that precisely because in faith we have a hope based on our new reality in Christ.
"We rejoice, not only in tribulation, but also at it. […] We see the righteousness of God in His wrath, the risen Christ in the crucified One, life in death, the 'Yes' in the 'No'. […] And hereby a new premiss is provided for our tribulation also. What at first seems nothing but mere human suffering becomes the action of God, the Creator and Redeemer. The obstacle to our life becomes a stepping-stone to the victory of life. Demolition becomes edification. Disappointment and obstruction become energetic hastening and tarrying for the coming of the Lord. The prisoner becomes the watchman (i. 16), and darkness is converted into light (Psalm 139:12). […] Thus our tribulation, without ceasing to be tribulation or to be felt to be tribulation, is transformed. We must suffer, as we suffered before. But our suffering is no longer a passive, dangerous, poisonous, destructive tribulation and perplexity, such as invade the souls of those who hate the Judge (ii. 9), but is transformed into a tribulation and perplexity which are creative, fruitful, powerful, promising, by which men are dissolved, cast to the ground, pressed into a corner, and imprisoned, by God." (Karl Barth, Romans 1933, p. 155-156)