Originally a Gregorian responsorial chant, the O Magnum Mysterium has been the subject of many new compositions celebrating the mystery of the incarnation of Christ. An all time favorite is French composer Francis Poulenc's version from his Quatre Motets pour le temps de Noël (Four Motets for Christmas) (1952).
Latin text
O magnum mysterium,
et admirabile sacramentum,
ut animalia viderent Dominum natum,
iacentem in praesepio!
Beata Virgo, cujus viscera
meruerunt portare
Dominum Iesum Christum.
Alleluia!
English translation
O great mystery,
and wonderful sacrament,
that animals should see the newborn Lord,
lying in a manger!
Blessed is the virgin whose womb
was worthy to bear
the Lord, Jesus Christ.
Alleluia!
Gary Amirault, the founder of Tentmaker Ministries and tentmaker.org, has passed away. The ministry of Gary has been a great blessing to many around the world. Gary died of a broken heart after losing his wife, Michelle.
Gary Amirault's personal testimony is available here.
Tentmaker.org is the largest collection of texts on Universal Reconcilation and Christian Universalism available. A great number of people have come to a greater hope in God's love by, often accidentally, finding tentmaker.org in their search for a more gracious gospel.
In recent years Gary Amirault also made videos where he talked on his favorite topics, especially the idea of "hell" in the bible and Church history.
Below are some of Gary Amirault's videos:
Tarek Saleeby (Lebanon) interviews Robin Parry (GB), author of The Evangelical Universalist. Parry explains his reasons for believing that everyone will eventually be saved through Christ. He also convincingly argues that Christian universalism is inside the scope of traditional Christian orthodoxy and should not as such be considered as 'liberal' heterodoxy.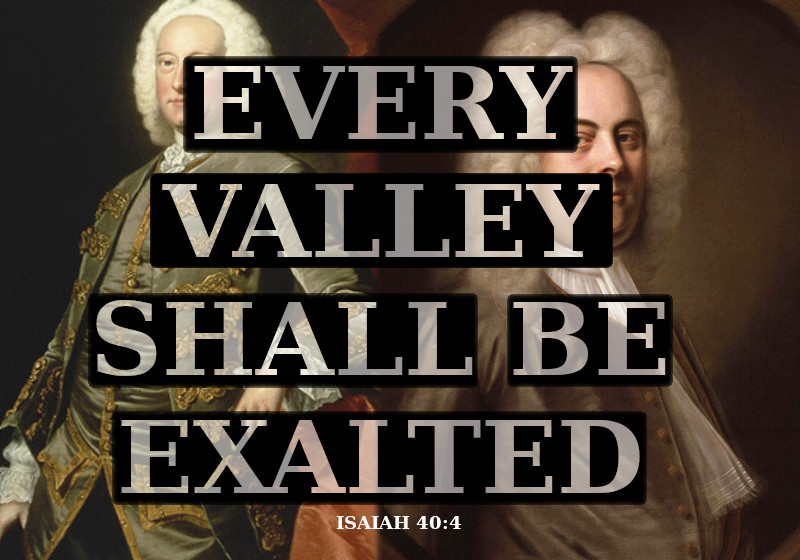 No Christmas without G.F. Händel's oratorio Messiah. Händel's popular masterwork is not just one of the most marvelous pieces of music ever written. The libretto by Charles Jennens also happens to present a perfect compilation of Bible verses from the King James versions of the Old Testament (especially Isaiah) and the New Testament. According to wikipedia, musicologist Watkins Shaw described it as "a meditation of our Lord as Messiah in Christian thought and belief", which "amounts to little short of a work of genius". This is pure gospel.
Jennens wasn't completely satisfied with Händel's composition ("He has made a fine entertainment of it, though not near so good as he might and ought to have done"), but Händel's work has become one of the most well known classical pieces of all times.
The performance below is from the Czech Republic (conducted by Václav Luks) (I'm not sure if it's the "best performance", but it's good!). Then follows the libretto.
---
Libretto copied from http://opera.stanford.edu/iu/libretti/messiah.htm
PART ONE
1. Sinfonia (Overture)
2. Accompagnato
Tenor
Comfort ye, comfort ye my people, saith your God.
Speak ye comfortably to Jerusalem, and cry unto her, that her warfare is accomplished, that her iniquity is pardoned.
The voice of him that crieth in the wilderness; prepare ye the way of the Lord; make straight in the desert a highway for our God.
(Isaiah 40:1-3)
3. Air
Tenor
Ev'ry valley shall be exalted, and ev'ry moutain and hill made low; the crooked straight and the rough places plain.
(Isaiah 40:4)
4. Chorus
And the glory of the Lord shall be revealed, and all flesh shall see it together:for the mouth of the Lord hath spoken it.
(Isaiah 40:5)
5. Accompagnato
Bass
Thus saith the Lord, the Lord of hosts:Yet once a little while and I will shake the heavens and the earth, the sea and the dry land.
And I will shake all nations; and the desire of all nations shall come.
(Haggai 2:6-7)
The Lord, whom ye seek, shall suddenly come to His temple, even the messenger of the Covenant, whom you delight in; behold, He shall come, saith the Lord of hosts.
(Malachi 3:1)
6. Air
Alto or soprano
But who may abide the day of His coming, and who shall stand when He appeareth? For He is like a refiner's fire.
(Malachi 3:2)
7. Chorus
And He shall purify the sons of Levi, that they may offer unto the Lord an offering in righteousness.
(Malachi 3:3)
8. Recitative
Alto
Behold, a virgin shall conceive and bear a son, and shall call His name Emmanuel, God with us.
(Isaiah 7:14; Matthew 1:23)
9. Air and Chorus
Alto
O thou that tellest good tidings to Zion, get thee up into the high mountain. O thou that tellest good tidings to Jerusalem, lift up thy voice with strength; lift it up, be not afraid; say unto the cities of Judah, behold your g od!
(Isaiah 40:9)
Arise, shine, for thy light is come, and the glory of the Lord is risen upon thee.
(Isaiah 60:1)
Chorus
O thou that tellest. . . etc.
10. Accompagnato
Bass
For behold, darkness shall cover the earth, and gross darkness the people; but the Lord shall arise upon thee, and His glory shall be seen upon thee.
And the Gentiles shall come to thy light, and kings to the brightness of thy rising.
(Isaiah 60:2-3)
11. Air
Bass
The people that walked in darkness have seen a great light;
and they that dwell in the land of the shadow of death, upon them hath the light shined.
(Isaiah 9:2)
12. Chorus
For unto us a child is born, unto us a son is given, and the government shall be upon His shoulder; and His name shall be called Wonderful, Counsellor, the mighty God, the Everlasting Father, the Prince of Peace.
(Isaiah 9:6)
13. Pifa ("Pastoral Symphony")
14a. Recitative
Soprano
There were shepherds abiding in the field, keeping watch over their flocks by night.
(Luke 2:8)
14b. Accompagnato
Soprano
And lo, the angel of the Lord came upon them, and the glory of the Lord shone round about them, and they were sore afraid.
(Luke 2:9)
15. Recitative
Soprano
And the angel said unto them:"Fear not, for behold, I bring you good tidings of great joy, which shall be to all people.
For unto you is born this day in the city of David a Saviour, which is Christ the Lord."
(Luke 2:10-11)
16. Accompagnato
Soprano
And suddenly there was with the angel, a multitude of the heavenly host, praising God, and saying:
(Luke 2:13)
17. Chorus
"Glory to God in the highest, and peace on earth, good will towards men."
(Luke 2:14)
18. Air
Soprano
Rejoice greatly, O daughter of Zion; shout, O daughter of Jerusalem!
Behold, thy King cometh unto thee; He is the righteous Saviour, and He shall speak peace unto the heathen.
Rejoice greatly. . . da capo
(Zechariah 9:9-10)
19. Recitative
Alto
Then shall the eyes of the blind be opened, and the ears of the deaf unstopped.
Then shall the lame man leap as an hart, and the tongue of the dumb shall sing.
(Isaiah 35:5-6)
20. Air (or Duet)
(Alto &) soprano
He shall feed His flock like a shepherd; and He shall gather the lambs with His arm, and carry them in His bosom, and gently lead those that are with young.
(Isaiah 40:11)
Come unto Him, all ye that labour, come unto Him that are heavy laden, and He will give you rest.
Take his yoke upon you, and learn of Him, for He is meek and lowly of heart, and ye shall find rest unto your souls.
(Matthew 11:28-29)
21. Chorus
His yoke is easy, and His burden is light.
(Matthew 11:30)
PART TWO
22. Chorus
Behold the Lamb of God, that taketh away the sin of the world.
(John 1:29)
23. Air
Alto
He was despised and rejected of men, a man of sorrows and acquainted with grief.
(Isaiah 53:3)
He gave His back to the smiters, and His cheeks to them that plucked off His hair:He hid not His face from shame and spitting.
He was despised. . . da capo (Isaiah 53:6)
24. Chorus
Surely He hath borne our griefs, and carried our sorrows!
He was wounded for our transgressions, He was bruised for our iniquities; the chastisement of our peace was upon Him.
(Isaiah 53:4-5)
25. Chorus
And with His stripes we are healed.
(Isaiah 53:5)
26. Chorus
All we like sheep have gone astray; we have turned every one to his own way. And the Lord hath laid on Him the iniquity of us all.
(Isaiah 53:6)
27. Accompagnato
Tenor
All they that see Him laugh Him to scorn; they shoot out their lips, and shake their heads, saying:
(Psalm 22:7)
28. Chorus
"He trusted in God that He would deliver Him; let Him deliver Him, if He delight in Him."
(Psalm 22:8)
29. Accompagnato
Tenor
Thy rebuke hath broken His heart:He is full of heaviness. He looked for some to have pity on Him, but there was no man, neither found He any to comfort him.
(Psalm 69:20)
30. Arioso
Tenor
Behold, and see if there be any sorrow like unto His sorrow.
(Lamentations 1:12)
31. Accompagnato
Soprano or tenor
He was cut off out of the land of the living:for the transgressions of Thy people was He stricken.
(Isaiah 53:8)
32. Air
Soprano or tenor
But Thou didst not leave His soul in hell; nor didst Thou suffer Thy Holy One to see corruption.
(Psalm 16:10)
33. Chorus
Lift up your heads, O ye gates; and be ye lift up, ye everlasting doors; and the King of Glory shall come in.
Who is this King of Glory? The Lord strong and mighty, The Lord mighty in battle.
Lift up your heads, O ye gates; and be ye lift up, ye everlasting doors; and the King of Glory shall come in.
Who is this King of Glory? The Lord of Hosts, He is the King of Glory.
(Psalm 24:7-10)
34. Recitative
Tenor
Unto which of the angels said He at any time:"Thou art My Son, this day have I begotten Thee?"
(Hebrews 1:5)
35. Chorus
Let all the angels of God worship Him.
(Hebrews 1:6)
36. Air
Alto or soprano
Thou art gone up on high; Thou hast led captivity captive, and received gifts for men; yea, even from Thine enemies, that the Lord God might dwell among them.
(Psalm 68:18)
37. Chorus
The Lord gave the word; great was the company of the preachers.
(Psalm 68:11)
38. Air (or « duet and Chorus »)
Soprano or alto (or soprano, alto and Chorus)
How beautiful are the feet of them that preach the gospel of peace, and bring glad tidings of good things.
(Isaiah 52:7; Romans 10:15)
39. Chorus (or air for tenor)
Their sound is gone out into all lands,
and their words unto the ends of the world.
(Romans 10:18; Psalm 19:4)
40. Air (or « Air and Recitative »)
Bass
Why do the nations so furiously rage together, and why do the people imagine a vain thing?
The kings of the earth rise up, and the rulers take counsel together against the Lord, and against His anointed.
(Psalm 2:1-2)
41. Chorus
Let us break their bonds asunder, and cast away their yokes from us.
(Psalm 2:3)
42. Recitative
Tenor
He that dwelleth in Heav'n shall laugh them to scorn; The Lord shall have them in derision.
(Psalm 2:4)
43. Air
Tenor
Thou shalt break them with a rod of iron; thou shalt dash them in pieces like a potter's vessel.
(Psalm 2:9)
44. Chorus
Hallelujah:for the Lord God Omnipotent reigneth.
(Revelation 19:6)
The kingdom of this world is become the kingdom of our Lord,
and of His Christ; and He shall reign for ever and ever.
(Revelation 11:15)
King of Kings, and Lord of Lords.
(Revelation 19:16)
Hallelujah!
PART THREE
45. Air
Soprano
I know that my Redeemer liveth, and that He shall stand
at the latter day upon the earth.
And though worms destroy this body, yet in my flesh shall I see God.
(Job 19:25-26)
For now is Christ risen from the dead, the first fruits of them that sleep.
(I Corinthians 15:20)
46. Chorus
Since by man came death, by man came also the resurrection of the dead.
For as in Adam all die, even so in Christ shall all be made alive.
(I Corinthians 15:21-22)
47. Accompagnato
Bass
Behold, I tell you a mystery; we shall not all sleep, but we shall all be changed in a moment, in the twinkling of an eye, at the last trumpet.
(I Corinthians 15:51-52)
48. Air
Bass
The trumpet shall sound, and the dead shall be raised incorruptible, and we shall be changed.
For this corruptible must put on incorruption and this mortal must put on immortality.
The trumpet. . . da capo
(I Corinthians 15:52-53)
49. Recitative
Alto
Then shall be brought to pass the saying that is written:"Death is swallowed up in victory."
(I Corinthians 15:54)
50. Duet
Alto & tenor
O death, where is thy sting? O grave, where is thy victory?
The sting of death is sin, and the strength of sin is the law.
(I Corinthians 15:55-56)
51. Chorus
But thanks be to God, who giveth us the victory through our Lord Jesus Christ.
(I Corinthians 15:57)
52. Air
Soprano alto
If God be for us, who can be against us?
(Romans 8:31)
Who shall lay anything to the charge of God's elect? It is God that justifieth, who is he that condemneth? It is Christ that died, yea rather, that is risen again, who is at the right hand of God, who makes intercession for us.
(Romans 8:33-34)
53. Chorus
Worthy is the Lamb that was slain, and hath redeemed us to God by His blood, to receive power, and riches, and wisdom,
and strength, and honour, and glory, and blessing.
Blessing and honour, glory and power, be unto Him that sitteth upon the throne, and unto the Lamb, for ever and ever.
Amen.
(Revelation 5:12-14)
---
Initially input by Pierre Degott (degott@zeus.univ-metz.fr); HTML conversion by Potharn Imre (pubi@altavista.net)
Covering the first 22 of Allin's 48 scriptures detailing God's plan for "all" his creation. From James Michael.
Find Thomas Allin's Christ Triumphant here.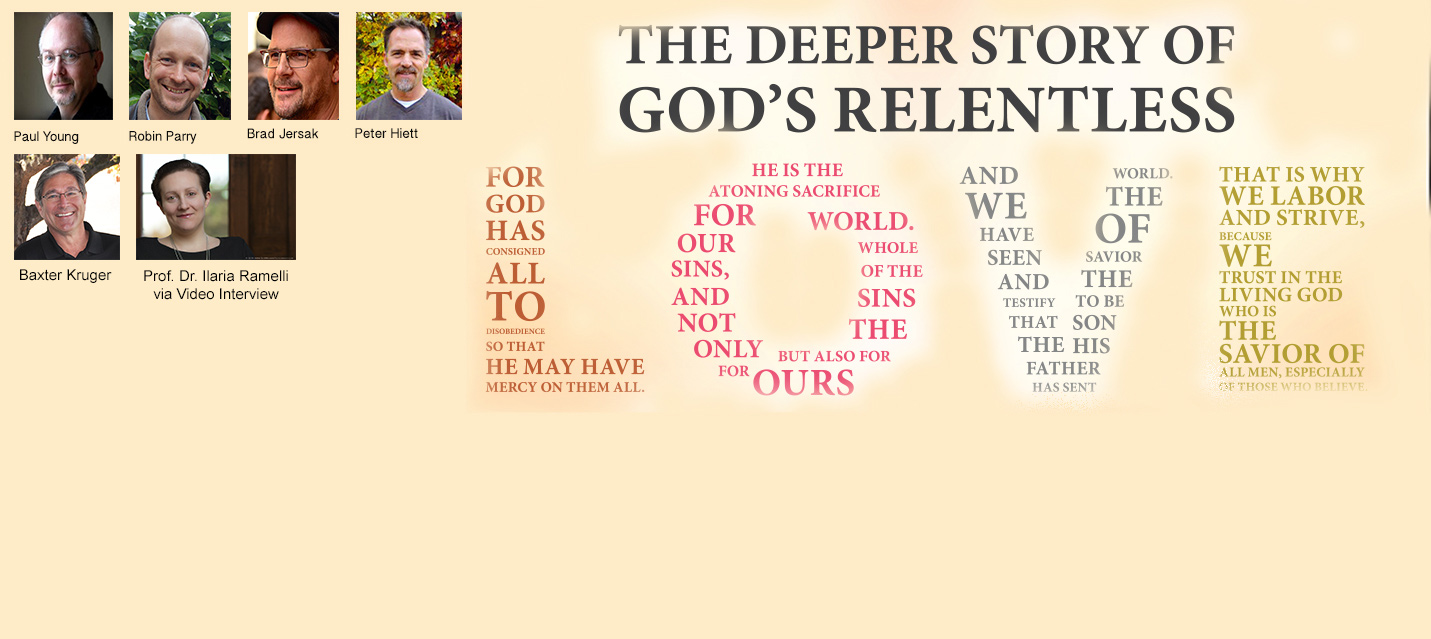 August this year authors and speakers gathered for a conference on "The Forgotten Gospel", with the intention of "proclaiming the victory of Relentless Love" in Jesus Christ.
Amongst the 26 authors and 6 speakers were Brad Jersak, Robin Parry and Ilaria Ramelli.
The videos from the conference are available here.
Frederick William Faber, 1862
"There's a wideness in God's mercy
like the wideness of the sea;
there's a kindness in his justice,
which is more than liberty.
There is welcome for the sinner,
and more graces for the good;
there is mercy with the Savior;
there is healing in his blood.
There is no place where earth's sorrows
are more felt than in heaven;
there is no place where earth's failings
have such kind judgment given.
There is plentiful redemption
in the blood that has been shed;
there is joy for all the members
in the sorrows of the Head.
For the love of God is broader
than the measure of man's mind;
and the heart of the Eternal
is most wonderfully kind.
If our love were but more faithful,
we should take him at his word;
and our life would be thanksgiving
for the goodness of the Lord."
In this interview pentecostal/episcopalian preacher Carlton Pearson explains how he came to the belief that Jesus did in fact accomplish the salvation of the whole world.
Gary Amirault of tentmaker.org explains the difference between 'toxic' and 'non-toxic' Bible translations.