The website is completely unaffiliated with any particular denomination, church or organization, while being committed to all the beliefs of classical Christianity as affirmed by, e.g., the Nicene Creed and the Apostolic Creed. The material included expresses the views of the individual authors. Most material is in the public domain or distribution has been allowed by the copyright holder.
About the editor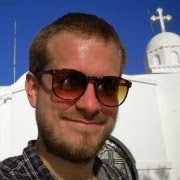 My name is Johannes Steenbuch, I'm a ph.d. in philosophy and patristics (early Christian studies), living on Bornholm in Denmark, Europe. This website functions as a blog and theological repository. I mostly post stuff that is relevant for my own work on church history, but I am also happy to receive articles and posts from other contributors, as my hope is to present a wide range of contemporary theological writings together with the more historical texts.
Feel free to mail me if you would like to contribute with an essay or an article!
---
"In wrath He remembers mercy" (Hab. 3:2)

"I will sow her for Myself in the land. I will also have compassion on her who had not obtained compassion, And I will say to those who were not My people, 'You are My people!' And they will say, 'You are my God!'" (Hosea 2:23)

"For the Lord will not cast off forever, but, though he cause grief, he will have compassion according to the abundance of his steadfast love; for he does not afflict from his heart or grieve the children of men." (Lam. 3:31-33)

"For the LORD is good; his steadfast love endures forever, and his faithfulness to all generations." (Ps. 100:5)

"The Lord is compassionate and gracious, Slow to anger and abounding in lovingkindness. He will not always strive with us, Nor will He keep His anger forever." (Ps. 103:8-9)


"The Lord is good to all, And His mercies are over all His works. (Ps. 145:9)

"As I live, saith the Lord God, I have no pleasure in the death of the wicked; but that the wicked turn from his way and live" (Ez. 33:11)

"He retaineth not His anger for ever, because He delighteth in mercy" (Mic. 7:18)

"Do not be afraid; for behold, I bring you good news of great joy which will be for all the people; for today in the city of David there has been born for you a Savior, who is Christ the Lord." (Luke 2:10-11)

"And I, if I am lifted up from the earth, will draw all men to Myself." (John 12:32)

"The Father loves the Son and has given all things into His hand." (John 3:35)

"All those the Father gives me will come to me, and whoever comes to me I will never drive away." (John 6:37)

"he is patient with you, not wanting anyone to perish, but everyone to come to repentance." (2 Pet. 3:9)

"This is good, and pleases God our Savior, who wants all people to be saved and to come to a knowledge of the truth." (1 Tim 2:3-4)

"we have our hope set on the living God, who is the Saviour of all men, specially of them that believe." (1 Tim 4:10)

"Then as one man's trespass led to condemnation for all men, so one man's act of righteousness leads to acquittal and life for all men. For as by one man's disobedience many were made sinners, so by one man's obedience many will be made righteous." (Rom 5:18-19)

"For God hath shut up all unto disobedience, that he might have mercy upon all." (Rom. 11:32)


"For since by man came death, by man came also the resurrection of the dead. For as in Adam all die, so also in Christ shall all be made alive." (1 Cor. 15:22)

"And when all things have been subjected unto him, then shall the Son also himself be subjected to him that did subject all things unto him, that God may be all in all." (1 Cor. 15:28)

"And he died for all, that those who live should no longer live for themselves but for him who died for them and was raised again." (2 Cor. 5:15)

"God was in Christ reconciling the world to Himself, not counting their trespasses against them" (2 Cor. 5:19)

"The Lord is not slow in regard to the promise, as certain count slowness, but is long-suffering to us, not counselling any to be lost but all to pass on to reformation" (2 Pet 3:9)

"he is the propitiation for our sins; and not for ours only, but also for the whole world." (1 Jn 2:2)

"For it was the good pleasure of the Father that in him should all the fulness dwell; and through him to reconcile all things unto himself, having made peace through the blood of his cross; through him, I say, whether things upon the earth, or things in the heavens." (Col. 1:19-20)


"You can show your great power any time you wish, and no one can stand up against it. In your sight the whole world is a grain of sand, barely heavy enough to tip a pair of scales, a drop of dew on the ground in the morning. You are powerful enough to do anything, but you are merciful to everyone; you overlook our sins and give us time to repent." (Wis. 11:21-23)


"You love everything that exists; you do not despise anything that you have made. If you had not liked it, you would not have made it in the first place. How could anything last, if you did not want it to? How could it endure, if you had not created it? You have allowed it all to exist, O Lord, because it is yours, and you love every living thing." (Wis. 11:24-26)