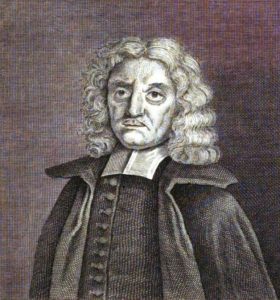 Jeremiah White (1629–1707), was a 17th-century Nonconformist minister and Puritan chaplain to Oliver Cromwell. During his years as a student at the University of Cambridge he came to the conviction that Arminianism was false.  White defended the doctrines of predestination, election and rebrobation, but these were understood in such a way, that the sanctification and salvation of the elect will be to the benefit of the reprobate, leading to the final happiness of all human beings.
Jeremiah White's The restoration of all things:  or, A vindication of the goodness and grace of God to be manifested at last, in the recovery of His whole creation out of their fall was published posthumously in 1712. The book also shows influences of Cambridge Platonism.
Central to White's thesis is that salvation is in principle already accomplished for all in and through God's eternal plan to save all. While this idea bears clear resemblances to the doctrine of justification from eternity, as known from 17th-18th century baptists like Samuel Richardson, John Brine and John Gill, this concept is not mentioned by White.
Jeremiah White, commenting on The First epistle to Timothy, connects the dots and reads 1 Tim. 2:4 (about the "living God, who desires all men to be saved and to come to the knowledge of the truth") together with 1 Tim. 4:10 (on God being "the Savior of all people, and especially of those who believe"). God desires that all be saved, which is why he is in fact the savior of all, but especially of those who believe now.
"Therefore this very command to Pray for all Men, especially back'd with this reason (for God wills that all Men be Saved) is a strong argument that there is a Salvation in God to be issued out sooner or later, even for all Men which is also more than strongly implied in the ascribing that Title to, God of being our Saviour, which I have shewed before, as it is to be understood generally, so also actually. For it is not said, he purposes, or inclines, or resolves to be a Saviour, but is a Saviour in act. For indeed all his works are finished to him from the Foundation of the World [from Eternity], and we are Saved in him before the notice of it comes to us, as the Apostle saith, tho' it was a mystery and was hid in God till it was manifested by the Gospel. So the Salvation of all Men is a done thing with God, though it hath its proper seasons to be exhibited to the view and notice of Men."
Download here: The restoration of all things: or, A vindication of the goodness and grace of God to be manifested at last, in the recovery of His whole creation out of their fall (pdf)