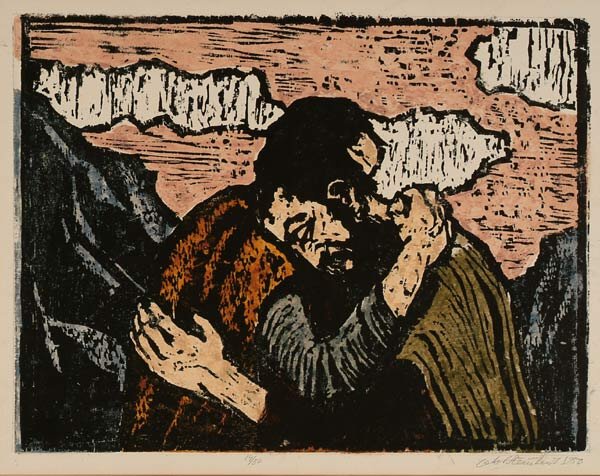 What does it mean that we have been given the "ministry of reconciliation"? J. Preston Eby explains.
"But all things are of God, who reconciled us to himself through Christ, and gave unto us the ministry of reconciliation; to wit, that God was in Christ reconciling the world unto himself, not reckoning unto them their trespasses, and having committed unto us the word of reconciliation." (2 Cor 5:18-19)
There are always those people who object to this truth on the grounds that the preaching of universal salvation will make Christians and unsaved careless. I can hear the unbelieving say, "If I believed that all men were to be saved eventually, I would just go out in the world and enjoy myself. What is the use of going through all these things we have to endure, if we're going to be saved in the end anyway?"
Such ridiculous talk only reveals the true inner condition of the one who makes such as assertion. It shows that he has no true love for God, but is serving Him only out of fear of going to hell, as a slave in fear of a tyrant. If such a person had the fear of hell removed from him it is obvious that he would promptly tell God to go to hell and then proceed to drown himself in devilish pleasures and fleshly pursuits. I have no hesitation in saying that any man who says that if all are going to be saved in the end we might as well eat, drink, and be merry, is a devil at heart, and convicts himself by his own words. If the wages of sin were removed, he would immediately go out and begin to live it up in the world, serving both the flesh and the devil. He has no love for God at all, and is the most contemptible of hypocrites.
If your heart is that much inclined to the world and your love for God is no greater, then you better go back into the world. People who want to live careless will always find an excuse to be careless and they will have to suffer the result of their carelessness both now and in the day of judgment. The knowledge of God's gracious purpose does not make true men of God careless. It makes them long to become a part of His will and an instrument in His plan of the ages. We can embrace every travail in understanding, grace, and love, when we clearly see it is working for eternal good according to His purpose which He purposed in Christ before the ages began.
Some press the issue further and raise the question, "If sinners hear that all will be saved eventually, won't that cause them to relax and live more carelessly?" To which I reply, Has the doctrine of eternal torture kept men from backsliding? Has it turned the world to God? Has it made the streets in your city safe to walk at night? Has it kept the Christians from growing spiritually cold, or from committing disgraceful sins? Has it prevented Churches from becoming worldly, or sinking into apostasy? It has not! If anyone thinks to use their service to God as a fire escape, He will not accept it. Our service must be because we love Him. Everything He did for us was because He loved us, and He will accept nothing less from us. "The love of Christ constrains us" (2 Cor. 5:14). He does not want what we have; He wants us; our heart and affection. And sinners need to discover the love of God in Christ, and be brought to truly love Him. Let us consider these things, and cry mightily unto God to deliver our minds from all prejudice and preconceived ideas and distorted notions, for it is possible He still has truth He has not revealed to us!
Some time ago the following questions were presented to me. "Why preach and teach the Gospel if all are to be saved ultimately? There is no need to witness for they will be saved someday, someway, somewhere – right?" W-R-O-N-G! First, the Christian life is so rich and beautiful and worthwhile that it would be the only life to live, even if there were no hereafter. Ask those who have truly known and experienced Christ over a period of years. Was it not Dr. A. J. Gordon who met an old crippled man on the street, and asked him why, with all his handicap, his face was nevertheless so bright and shining? And the old man answered, "The devil has no happy old men!"
Furthermore, God will never save your loved ones, your neighbors, or any other person who has ever lived or who ever shall live apart from a MEANS, an INSTRUMENT THROUGH WHICH TO REACH THEM. And WE are that instrument! God declares to His elect in Isa. 49:6, "I will also GIVE YOU for a light to the nations, that YOU may BE MY SALVATION unto the end of the earth." The method by which God causes men to believe is revealed in Rom. 10:14-15. "How then shall they call on Him in whom they have not BELIEVED? and how shall they BELIEVE in Him of whom they have not HEARD? and how shall they HEAR without a PREACHER? and how shall they PREACH except they be SENT?" Does the salvation of all men negate this procedure? NO WAY! It only intensifies it! The simple truth is that God purposes to save all men. The means by which He shall accomplish this is A PEOPLE, a ROYAL PRIESTHOOD, the SONS OF GOD, who are made ONE with the PRIESTLY MINISTRY OF JESUS the great HIGH PRIEST, to intercede, witness, speak, exhort, warn, entreat, preach, and proclaim the redemptive power of the Christ until this ministry conquers all men for God.
Ah – does the fact that God will have all men to be saved mean that it is meaningless to WITNESS, to PREACH? A thousand times no! "It pleased God by the foolishness of PREACHING to save them that believe" (1 Cor. 1:21). So we cannot preach less, we must not witness less, armed now with the hope that the preaching will ultimately BEAR FRUIT we shall preach MORE THAN EVER BEFORE, for this is one of God's MEANS of salvation! Those who should really give up witnessing to their loved ones, and preaching to the lost are those who believe most of them will burn for ever in hell anyway! What on earth could be more worthless, unprofitable, vain, disturbing and disappointing than witnessing and preaching to men when we actually believe that only a small fraction of them will ever be saved? Why bother? To what end all the labor? The devil gets most of them in the end anyhow!
We who know that God will have all men to be saved are really the only people on earth who have REAL PURPOSE in ministering to the lost. Praise God! He has committed unto us the MINISTRY OF RECONCILIATION. Now comes the word: "And all things are of God, who has reconciled us to Himself by Jesus Christ, and has given UNTO US THE MINISTRY OF RECONCILIATION; to wit, that God was in Christ reconciling T-H-E W-O-R-L-D unto Himself, not imputing their trespasses unto them; and has COMMITTED UNTO US THE WORD OF RECONCILIATION. Now then we are ambassadors for Christ, as though God did beseech you by us: WE PRAY YOU IN CHRIST'S STEAD, BE   RECONCILED UNTO GOD" (2 Cor. 5:18-20). The apostle shows how it is that God was in Christ reconciling NOT THE CHURCH, NOT THE SAINTS, NOT JUST BELIEVERS, but T-H-E W-O-R-L-D unto Himself, and now has given the MINISTRY BY WHICH THIS RECONCILIATION IS TO BE EFFECTED … unto us! "We pray you in Christ's stead." Not witness to our loved ones because they will be saved anyway? Not preach to the unconverted because they will be saved in the end? The very idea is absurd, a complete contradiction of terms! Because God has made blessed provision for their salvation IS W-H-Y WE WITNESS! On the contrary, to witness and witness and witness to vast numbers of people who will NEVER BE SAVED would be an effort in futility. If I believed that nonsense, then I really might STOP PREACHING!
Will believing that God is the Saviour of all men do away with evangelistic fervor and zeal? Only in men who hold a carnal knowledge of the doctrine in their intellect, but have no deep revelation of the truth of it in their hearts. It did not affect the apostle Paul in this manner. On the contrary it increased his fervor and zeal. Paul states it clearly and emphatically, "For to this end we labor and strive, because we have our hope set on the living God, who is the Saviour of all men" (1 Tim. 4:10). After many years of ministry, being, by the grace of God, an instrument of God to help a great many people in the deep spiritual, psychical, and physical needs of their lives, I testify that I know of no greater joy on earth than the joy of seeing people receive Christ as their own Saviour and Lord. Just ask anyone who has led some person to the Lord, what is the greatest joy he knows. He will not be slow in telling you. Or try it yourself!
The fact that we see and appreciate God's great and wonderful plan for all men leaves no room in us for a dilatory, DON'T CARE spirit. The elect of God are always conscious of their unique calling. We are given the high honor of being "laborers together with God." Some day when the last devil has been subjected, and the last sinner broken in humility and contrition at the lovely feet of Jesus, we shall realize, as we may not now, just how great that honor really is, and how much we have missed if we fail to share in this task to which the Almighty has set His hand.
I must confess that I am deeply grieved in my spirit when I meet these would-be Sons of God who look with contempt upon those who still have a passion for souls and desire to see men delivered from the power of the devil. I am aware of the fact that the hour has not yet arrived when God shall deal with all nations, and multitudes of past generations, to bring forth His salvation in them, but it is my deepest conviction that one of the sure marks of sonship is THE SPIRIT OF RECONCILIATION. Why speak of our great hope of what God shall do in the ages to come if THE SPIRIT OF THAT HOPE is not now alive in our hearts? It is not the doctrine of reconciliation that shall change the world, but the MINISTRY OF RECONCILIATION. The ministry of reconciliation springs from the spirit of reconciliation.
If you would not walk across the street to see some poor soul delivered and converted by the redeeming power of Christ, don't waste your time relating to me how you are chosen of God to help in the delivering of the whole creation from the bondage of sin and death. The Spirit of Reconciliation must reign within our hearts. The Ministry of Reconciliation must issue forth from our lives. Rivers of Living Water must, even now, pour forth out of our innermost being, bringing hope and victory and life to all who will come and drink! Amen!"
Find more writings by J. Preston Eby here: http://www.kingdombiblestudies.org/