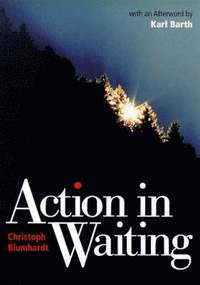 Christoph Blumhardt (1842–1919) was a German pastor whose Christian radicalism and emphasis on the living kingdom of God against bourgeois personal pietism and religion influenced theologians such as Karl Barth and Jürgen Moltmann.
Action in Waiting is a collection of sermons that presents Blumhardt's thinking in an easily accessible manner. This is not complicated theological speculation, but clear words about the all-embracing grace of the Kingdom of God.
Blumhardt's dialectical point is that only when we are ready to wait for the coming Kingdom of God are we truly able to act in the world here and now. Our religious practices and affiliations do not bring the Kingdom of God a bit closer: A comfortable Christianity will never change the world, says Blumhardt. Instead we must await the Kingdom in "active expectation".  Most importantly the Kingdom of God cannot be limited to the "church" or certain pious persons, but must embrace the whole world.
From the book:
"[…] we must begin to speak of God's kingdom in a new way. In spite of present-day conditions where much of the church and of Christian fellowship is almost dead, we can speak of God's kingdom to men and women of our time. The kingdom of God is and was and will be the rulership of justice, of order, of power, of authority, of all that is of God, over creation. This is what moves those of us who seek, and this must come more fully into being. And unless our lives are molded according to this rulership, we shall always remain dissatisfied."

"I am frequently saddened to hear and see how so many people who call themselves Christians, and often even real Christians, cannot bring themselves to wish good to all people as they wish it for themselves. How few are filled with God's gift of forgiveness! Instead most set themselves apart by setting themselves above oth­ers. But if we are awaiting the Savior, then we are await­ing the forgiveness of the world's sins, not just our own (1 John 2:2)."
See also: Christoph Blumhardt (1842-1919)
The book can be freely download at Plough Publishing.