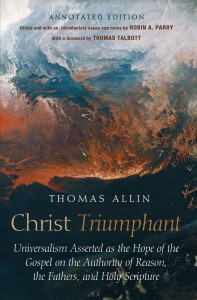 In 1885 the Irish Anglican priest Thomas Allin (1838-1909) published his now classic "Christ Triumphant – or Universalism Asserted as the Hope of the Gospel on the Authority of Reason, the Fathers, and Holy Scripture". The book has now been republished with an introductory essay by Robin Parry and a foreword by Thomas Talbott.
"I plead for the acceptance of this central truth as the great hope of the gospel, that the victory of Jesus Christ must be final and complete, i.e., that nothing can impair the power of his cross and passion to save the entire human race." —Thomas Allin
Find it at Amazon here or find the old version at Tentmaker here. See also a sample on Robin Parry's Academia profile here.