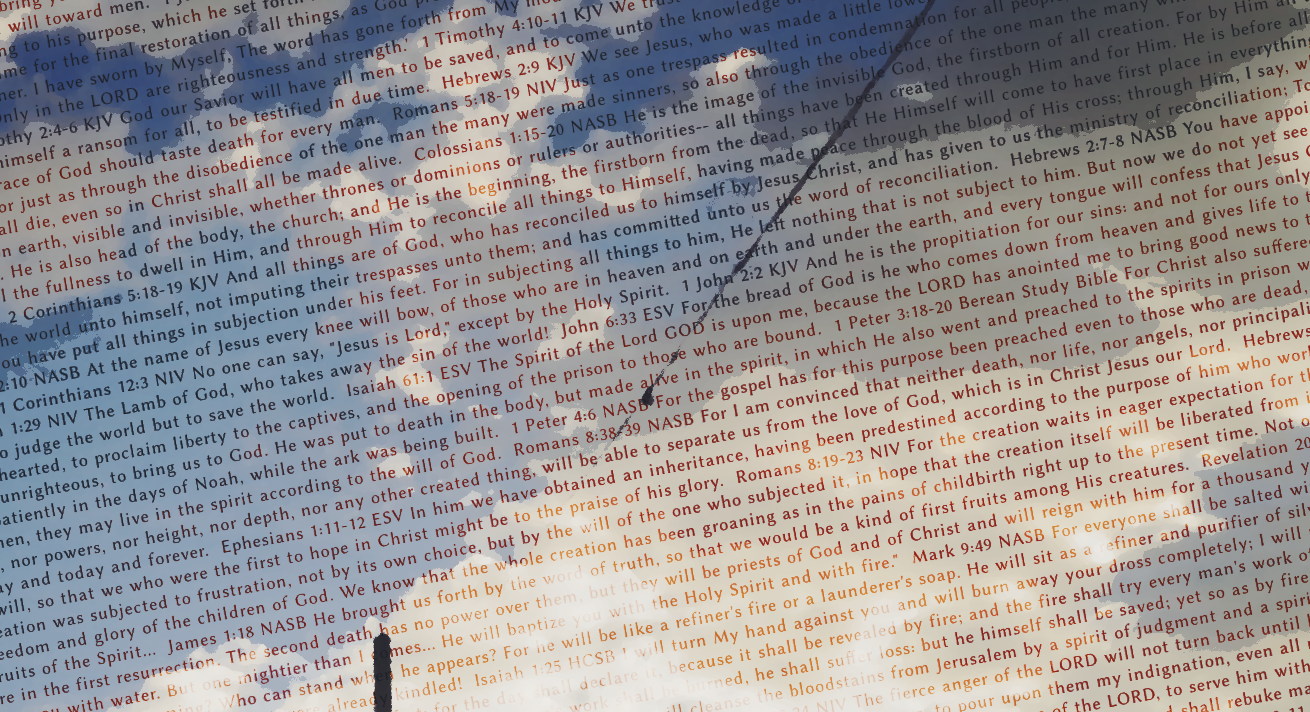 Compiled by Peter Hinners.
Luke 2:10-14 KJV
I bring you good tidings of great joy, which shall be to all people. For unto you is born this day in the city of David a Savior, who is Christ the Lord… Glory to God in the highest, and on earth peace, good will toward men.
1 John 4:14 KJV
And we have seen and do testify that the Father sent the Son to be the Savior of the world.
Ephesians 1:9-10 ESV
He made known to us the mystery of his will, according to his purpose, which he set forth in Christ as a plan for the fullness of time, to unite all things in him, things in heaven and things on earth.
Acts 3:21 NLT
For he must remain in heaven until the time for the final restoration of all things, as God promised long ago through his holy prophets.
Isaiah 45:22-24 NASB
Turn to Me and be saved, all the ends of the earth! For I am God, and there is no other. I have sworn by Myself, The word has gone forth from My mouth in righteousness And will not turn back, That to Me every knee will bow, every tongue will swear allegiance. They will say of Me, 'Only in the LORD are righteousness and strength.'
1 Timothy 4:10-11 KJV
We trust in the living God, who is the Savior of all men, specially of those that believe. These things command and teach.
1 Timothy 2:4-6 KJV
God our Savior will have all men to be saved, and to come unto the knowledge of the truth. For there is one God, and one mediator between God and men, the man Christ Jesus, who gave himself a ransom for all, to be testified in due time.
Hebrews 2:9 KJV
We see Jesus, who was made a little lower than the angels for the suffering of death, crowned with glory and honor; that he by the grace of God should taste death for every man.
Romans 5:18-19 NIV
Just as one trespass resulted in condemnation for all people, so also one righteous act resulted in justification and life for all people. For just as through the disobedience of the one man the many were made sinners, so also through the obedience of the one man the many will be made righteous.
1 Corinthians 15:22 KJV
For as in Adam all die, even so in Christ shall all be made alive.
Colossians 1:15-20 NASB
He is the image of the invisible God, the firstborn of all creation. For by Him all things were created, both in the heavens and on earth, visible and invisible, whether thrones or dominions or rulers or authorities– all things have been created through Him and for Him. He is before all things, and in Him all things hold together. He is also head of the body, the church; and He is the beginning, the firstborn from the dead, so that He Himself will come to have first place in everything. For it was the Father's good pleasure for all the fullness to dwell in Him, and through Him to reconcile all things to Himself, having made peace through the blood of His cross; through Him, I say, whether things on earth or things in heaven.
2 Corinthians 5:18-19 KJV
And all things are of God, who has reconciled us to himself by Jesus Christ, and has given to us the ministry of reconciliation; To wit, that God was in Christ, reconciling the world unto himself, not imputing their trespasses unto them; and has committed unto us the word of reconciliation.
Hebrews 2:7-8 NASB
You have appointed him over the works of your hands; you have put all things in subjection under his feet. For in subjecting all things to him, He left nothing that is not subject to him. But now we do not yet see all things subjected to him.
Philippians 2:10 NASB
At the name of Jesus every knee will bow, of those who are in heaven and on earth and under the earth, and every tongue will confess that Jesus Christ is Lord, to the glory of God the Father.
1 Corinthians 12:3 NIV
No one can say, "Jesus is Lord," except by the Holy Spirit.
1 John 2:2 KJV
And he is the propitiation for our sins: and not for ours only, but also for the sins of the whole world.
John 1:29 NIV
The Lamb of God, who takes away the sin of the world!
John 6:33 ESV
For the bread of God is he who comes down from heaven and gives life to the world.
John 12:47 ESV
For I did not come to judge the world but to save the world.
Isaiah 61:1 ESV
The Spirit of the Lord GOD is upon me, because the LORD has anointed me to bring good news to the poor; he has sent me to bind up the brokenhearted, to proclaim liberty to the captives, and the opening of the prison to those who are bound.
1 Peter 3:18-20 Berean Study Bible
For Christ also suffered for sins once for all, the righteous for the unrighteous, to bring us to God. He was put to death in the body, but made alive in the spirit, in which He also went and preached to the spirits in prison who disobeyed long ago when God waited patiently in the days of Noah, while the ark was being built.
1 Peter 4:6 NASB
For the gospel has for this purpose been preached even to those who are dead, that though they are judged in the flesh as men, they may live in the spirit according to the will of God.
Romans 8:38-39 NASB
For I am convinced that neither death, nor life, nor angels, nor principalities, nor things present, nor things to come, nor powers, nor height, nor depth, nor any other created thing, will be able to separate us from the love of God, which is in Christ Jesus our Lord.
Hebrews 13:8 NIV
Jesus Christ is the same yesterday and today and forever.
Ephesians 1:11-12 ESV
In him we have obtained an inheritance, having been predestined according to the purpose of him who works all things according to the counsel of his will, so that we who were the first to hope in Christ might be to the praise of his glory.
Romans 8:19-23 NIV
For the creation waits in eager expectation for the children of God to be revealed. For the creation was subjected to frustration, not by its own choice, but by the will of the one who subjected it, in hope that the creation itself will be liberated from its bondage to decay and brought into the freedom and glory of the children of God. We know that the whole creation has been groaning as in the pains of childbirth right up to the present time. Not only so, but we ourselves, who have the firstfruits of the Spirit…
James 1:18 NASB
He brought us forth by the word of truth, so that we would be a kind of first fruits among His creatures.
Revelation 20:6 NIV
Blessed and holy are those who share in the first resurrection. The second death has no power over them, but they will be priests of God and of Christ and will reign with him for a thousand years.
Luke 3:16 KJV
John answered, "I baptize you with water. But one mightier than I comes… He will baptize you with the Holy Spirit and with fire."
Mark 9:49 NASB
For everyone shall be salted with fire.
Malachi 3:2-4 NIV
But who can endure the day of his coming? Who can stand when he appears? For he will be like a refiner's fire or a launderer's soap. He will sit as a refiner and purifier of silver.
Luke 12:49 NASB
I have come to cast fire upon the earth; and how I wish it were already kindled!
Isaiah 1:25 HCSB
I will turn My hand against you and will burn away your dross completely; I will remove all your impurities.
1 Corinthians 3:13-15 KJV
Every man's work shall be made manifest: for the day shall declare it, because it shall be revealed by fire; and the fire shall try every man's work of what sort it is. If any man's work abide which he has built thereupon, he shall receive a reward. If any man's work shall be burned, he shall suffer loss: but he himself shall be saved; yet so as by fire.
Hebrews 12:29 KJV
God is a consuming fire.
Isaiah 4:4 NIV
The Lord will wash away the filth of the women of Zion; he will cleanse the bloodstains from Jerusalem by a spirit of judgment and a spirit of fire.
Revelation 20:14 NIV
Then death and Hades were thrown into the lake of fire. The lake of fire is the second death.
Jeremiah 30:24 NIV
The fierce anger of the LORD will not turn back until he fully accomplishes the purposes of his heart.
Zephaniah 3:8-9 KJV
For my determination is to gather the nations, that I may assemble the kingdoms, to pour upon them my indignation, even all my fierce anger: for all the earth shall be devoured with the fire of my jealousy. For then will I turn to the people a pure language, that they may all call upon the name of the LORD, to serve him with one consent.
Isaiah 26:9 KJV
For when your judgments are in the earth, the inhabitants of the world will learn righteousness.
Isaiah 2:4 KJV
And he shall judge among the nations, and shall rebuke many people: and they shall beat their swords into plowshares, and their spears into pruning-hooks: nation shall not lift up sword against nation, neither shall they learn war any more.
Hebrews 12:10-11 NASB
He disciplines us for our good, so that we may share His holiness. All discipline for the moment seems not to be joyful, but sorrowful; yet to those who have been trained by it, afterwards it yields the peaceful fruit of righteousness.
Psalm 66:10 & 12 NASB
For You have tried us, O God; You have refined us as silver is refined… We went through fire and through water, Yet You brought us out into a place of abundance.
John 3:17 NIV
For God did not send his Son into the world to condemn the world, but to save the world through him.
Psalm 99:8 KJV
You were a God that forgave them, though you took vengeance of their inventions.
Hebrews 12:6 KJV
For whom the Lord loves he chastens, and scourges every son whom he receives.
Psalm 2:8-9 NIV
Ask me, and I will make the nations your inheritance, and the ends of the earth your possession. You will break them with a rod of iron; you will dash them to pieces like pottery.
Job 5:18 ESV
For he wounds, but he binds up; he shatters, but his hands heal.
Isaiah 64:8 NIV
You, LORD, are our Father. We are the clay, you are the potter; we are all the work of your hand.
Jeremiah 18:4 HCSB
But the jar that he was making from the clay became flawed in the potter's hand, so he made it into another jar, as it seemed right for him to do. Can I not treat you as this potter treats his clay?
Hosea 6:1 NIV
He has torn us to pieces but he will heal us; he has injured us but he will bind up our wounds.
Deuteronomy 32:39 KJV
I kill, and I make alive; I wound, and I heal.
Psalm 90:3 KJV
You turn man to destruction; and say, Return, you children of men.
Ezekiel 16:53-55 NIV
I will restore the fortunes of Sodom and Samaria, and your fortunes along with them… [They] will return to what they were before; and you and your daughters will return to what you were before.
Lamentations 3:31 ESV
For the Lord will not cast off forever, but, though he cause grief, he will have compassion according to the abundance of his steadfast love.
Lamentations 3:22 ESV
The steadfast love of the LORD never ceases; his mercies never come to an end.
Isaiah 57:16 KJV
For I will not contend for ever, neither will I always be angry: for the spirit would fail before me, and the souls which I have made.
Ezekiel 18:4 KJV
Behold, all souls are mine.
Lamentations 3:34-36 KJV
To crush under his feet all the prisoners of the earth, to turn aside the right of a man before the face of the most High, to subvert a man in his cause, the Lord approves not.
Psalm 102:19-22 NASB
For He looked down from His holy height; from heaven the LORD gazed upon the earth, to hear the groaning of the prisoner, to set free those who were doomed to death, that men may tell of the name of the LORD in Zion And His praise in Jerusalem, when the peoples are gathered together, and the kingdoms, to serve the LORD.
Daniel 7:14 KJV
And there was given him dominion, and glory, and a kingdom, that all people, nations, and languages, should serve him.
Hebrews 1:2 ESV
…his Son, whom he appointed the heir of all things…
John 13:3 ESV
Jesus, knowing that the Father had given all things into his hands…
John 17:2 ESV
You have given him authority over all flesh, to give eternal life to all whom you have given him.
John 3:35 ESV
The Father loves the Son and has given all things into His hand.
John 6:37 ESV
All that the Father gives me will come to me, and whoever comes to me I will never cast out.
John 12:32 NASB
And I, if I am lifted up from the earth, will draw all men to Myself.
Ephesians 3:6 NASB
The Gentiles are fellow heirs and fellow members of the body, and fellow partakers of the promise in Christ Jesus through the gospel.
Isaiah 49:6 NLT
You will do more than restore the people of Israel to me. I will make you a light to the Gentiles, and you will bring my salvation to the ends of the earth.
Psalm 24:1 NIV
The earth is the LORD's, and everything in it, the world, and all who live in it;
Ephesians 4:6 NIV
One God and Father of all, who is over all and through all and in all.
Psalm 100:1-3 ESV
Make a joyful noise to the LORD, all the earth! Know that the LORD, he is God! It is he who made us, and we are his; we are his people, and the sheep of his pasture.
Isaiah 53:6 NASB
All of us like sheep have gone astray, Each of us has turned to his own way; But the LORD has caused the iniquity of us all To fall on Him.
Luke 15:4 NASB
What man among you, if he has a hundred sheep and has lost one of them, does not leave the ninety-nine in the open pasture and go after the one which is lost until he finds it?
Luke 19:10 NASB
For the Son of Man has come to seek and to save that which was lost.
John 6:39 ESV
And this is the will of him who sent me, that I should lose nothing of all that he has given me, but raise it up on the last day.
1 Corinthians 15:51-55 American Standard Version 1997
Behold, I tell you a mystery. We will not all sleep, but we will all be changed, in a moment, in the twinkling of an eye, at the last trumpet. For the trumpet will sound, and the dead will be raised incorruptible, and we will be changed. For this corruptible must put on incorruption, and this mortal must put on immortality. But when this corruptible will have put on incorruption, and this mortal will have put on immortality, then what is written will happen: "Death is swallowed up in victory. Death, where is your sting? Hades, where is your victory?"
Hosea 13:14 ESV
I shall ransom them from the power of Sheol; I shall redeem them from Death. O Death, where are your plagues? O Sheol, where is your sting?
1 Corinthians 15:26 & 28 NASB
The last enemy that will be abolished is death. For God has put all things in subjection under his feet. When all things are subjected to Him, then the Son Himself also will be subjected to the One who subjected all things to Him, so that God may be all in all.
2 Timothy 1:10 NASB
Our Savior Christ Jesus has abolished death, and has brought life and immortality to light through the gospel.
Revelation 21:3-5 KJV
And I heard a great voice out of heaven saying, Behold, the tabernacle of God is with men, and he will dwell with them, and they shall be his people, and God himself shall be with them, and be their God. And God shall wipe away all tears from their eyes; and there shall be no more death, neither sorrow, nor crying, neither shall there be any more pain: for the former things are passed away. And he that sat upon the throne said, Behold, I make all things new.
Isaiah 35:10 KJV
And the ransomed of the Lord shall return, and come to Zion with songs and everlasting joy upon their heads: they shall obtain joy and gladness, and sorrow and sighing shall flee away.
Isaiah 25:6-8 KJV
And in this mountain shall the LORD of hosts make unto all people a feast of fat things, a feast of wines on the lees, of fat things full of marrow, of wines on the lees well refined. And he will destroy in this mountain the face of the covering cast over all people, and the vail that is spread over all nations. He will swallow up death in victory; and the Lord GOD will wipe away tears from off all faces.
Jeremiah 31:33-34 NIV
I will put my law in their minds and write it on their hearts. I will be their God, and they will be my people. No longer will they teach their neighbor, or say to one another, 'Know the LORD,' because they will all know me, from the least of them to the greatest.
Romans 11:16 KJV
For if the firstfruit are holy, the lump is also holy.
Romans 11:36 ESV
For from Him and through Him and to Him are all things.
John 4:42 NIV
Now we have heard for ourselves, and we know that this man really is the Savior of the world.
Romans 3:3 HCSB
What then? If some did not believe, will their unbelief cancel God's faithfulness? Absolutely not!
2 Timothy 2:13 KJV
If we believe not, yet he abides faithful: he cannot deny himself.
Romans 11:32 KJV
For God has concluded them all in unbelief, that he might have mercy upon all.
Isaiah 61:11 ESV
For as the earth brings forth its sprouts, and as a garden causes what is sown in it to sprout up, so the Lord GOD will cause righteousness and praise to sprout up before all the nations.
Psalm 86:9 NASB
All nations whom You have made shall come and worship before You, O Lord, And they shall glorify Your name.
Romans 14:11 NASB
As I live, says the Lord, every knee shall bow to me, and every tongue shall give praise to God.
Psalm 22:27 NASB
All the ends of the earth will remember and turn to the LORD, And all the families of the nations will worship before You.
Psalm 145:9-10 KJV
The LORD is good to all: and his tender mercies are over all his works. All your works shall praise you.
Isaiah 66:23 KJV
All flesh shall come to worship before me, declares the LORD.
Psalm 66:4 NLT
Everything on earth will worship you; they will sing your praises, shouting your name in glorious songs.
Revelations 5:13 KJV
And every creature which is in heaven, and on the earth, and under the earth, and such as are in the sea, and all that are in them, heard I saying, Blessing, and honor, and glory, and power, be unto him that sits upon the throne, and unto the Lamb forever and ever.
Psalm 145:21 NASB
And all flesh will bless His holy name forever and ever.