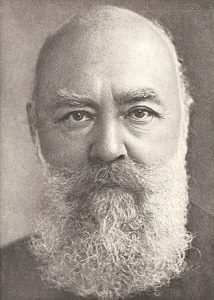 Christoph Friedrich Blumhardt (1842-1919) was born at Möttlingen in 1842. Christoph Blumhardt, as his father, Johann Christoph Blumhardt, became known as a mass evangelist and faith healer. The preaching of the Blumhardt's was radically oriented toward the coming kingdom of God.
For a time Christoph Blumhardt was involved with politics as a Social Democrat, but came disillusioned with politics. He gradually developed the idea, that the most radical and active involvement in the world is in fact in waiting upon God.
Christoph Blumhardt's theology, preaching and ministry influenced important theologians of the 20th century, such as Karl Barth and Jürgen Moltmann. According to Blumhardt the purpose of God's judgments was the conversion of the sinner aiming at the final salvation of all.
"I am frequently saddened to hear and see how so many people who call themselves Christians, and often even real Christians, cannot bring themselves to wish good to all people as they wish it for themselves. How few are filled with God's gift of forgiveness! Instead most set themselves apart by setting themselves above oth­ers. But if we are awaiting the Savior, then we are await­ing the forgiveness of the world's sins, not just our own (1 John 2:2)." (Christoph Blumhardt 1842-1919)

"There can be no question of God's giving up anything or anyone in the whole world, either today or in all eternity. The end has to be: Behold, everything is God's! Jesus comes as the one who has borne the sins of the world. Jesus can judge but not condemn. My desire is to have preached this as far as the deepest depths of hell, and I shall never be confounded." — Christoph Blumhardt (1842-1919)

"One may ask what kind of judging the disciples were supposed to do while sitting on their thrones. Here we must remember that according to Paul at the end all of Israel will be saved (Rom. 11:26). And, Romans 11:32: 'For God has consigned all men to disobedience, that he may have mercy on all.' Thus this judgment by the disciples is no judgment toward damnation; rather it is a preparation for submission and for acceptance of salvation […] Even in the Old Testament the word 'judging' is sometimes used in the sense of 'setting right', as for instance when it says 'Zion must be judged by right and justice.' […] The 'judgment' shall be a means to brings as many as possible back into the fold. Finally, all knees shall be bent and all tongues confess that Jesus Christ is Lord. In order to make this possible there will have to be a lot of judgment-work done." (Blumhardt quoted from Christian T. Collins Winn, "Jesus Is Victor!": The Significance of the Blumhardts for the Theology of Karl Barth)

"Jesus sees every person as abnormal but gives up no one as lost. If people were not as they are, they would have no need of Salvation. So, in the next place, Jesus allows all to come to him as they are: sinners and righteous, poor and rich, healthy and sick. Jesus gives himself to each person as he is; and people ought not play up their own piety and put down that of others."