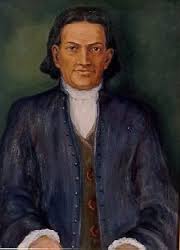 Alexander Mack was the leader and first minister of the Schwarzenau Brethren (or German Baptists) in Schwarzenau, Germany. Mack founded the Brethren along with seven other Radical Pietists in Schwarzenau in 1708. The Schwarzenau Brethren held to the rejection of any coercion in religion, infant baptism, and saw the New Testament as their only Rule of Faith. Mack was a Universalist and pacifist.
Mack expressed a belief that after the collapse of several eternities or aeons there would be a final and universal restoration of all things, in which the godless through Christ would finally be saved from their torments in hell. It is not, however, necessary to talk or speculate much about it, says Mack. It is much better to practice truth here and now than deliberating about how to escape the torments of hell at a later point. (Wikipedia)
Read more here.
Alexander Mack, Rights and Ordinances; trans. H. R. Holsinger, History of the Tunkers and the Brethren Church (Oakland, Cal.: Pacific Press Publishing Co., 1901), pp. 113-115.