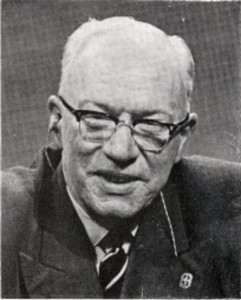 First, there is the fact that there are things in the New Testament which more than justify this belief. Jesus said: "I, when I am lifted up from the earth, will draw all men to myself" (John 12:32). Paul writes to the Romans: "God has consigned all men to disobedience that he may have mercy on all" (Rom. 11:32). He writes to the Corinthians: "As in Adam all die, so also in Christ shall all be made alive" (1 Cor. 15:22); and he looks to the final total triumph when God will be everything to everyone (1 Cor. 15:28). In the First Letter to Timothy we read of God "who desires all men to be saved and to come to the knowledge of the truth," and of Christ Jesus "who gave himself as a ransom for all" (1 Tim 2:4-6). The New Testament itself is not in the least afraid of the word all.
Second, one of the key passages is Matthew 25:46 where it is said that the rejected go away to eternal punishment, and the righteous to eternal life. The Greek word for punishment is kolasis, which was not originally an ethical word at all. It originally meant the pruning of trees to make them grow better. I think it is true to say that in all Greek secular literature kolasis is never used of anything but remedial punishment. The word for eternal is aionios. It means more than everlasting, for Plato – who may have invented the word – plainly says that a thing may be everlasting and still not be aionios. The simplest way to out it is that aionios cannot be used properly of anyone but God; it is the word uniquely, as Plato saw it, of God. Eternal punishment is then literally that kind of remedial punishment which it befits God to give and which only God can give.
Third, I believe that it is impossible to set limits to the grace of God. I believe that not only in this world, but in any other world there may be, the grace of God is still effective, still operative, still at work. I do not believe that the operation of the grace of God is limited to this world. I believe that the grace of God is as wide as the universe.
Fourth, I believe implicitly in the ultimate and complete triumph of God, the time when all things will be subject to him, and when God will be everything to everyone (1 Cor. 15:24-28). For me this has certain consequences. If one man remains outside the love of God at the end of time, it means that that one man has defeated the love of God – and that is impossible. Further, there is only one way in which we can think of the triumph of God. If God was no more than a King or Judge, then it would be possible to speak of his triumph, if his enemies were agonizing in hell or were totally and completely obliterated and wiped out. But God is not only King and Judge, God is Father – he is indeed Father more than anything else. No father could be happy while there were members of his family for ever in agony. No father would count it a triumph to obliterate the disobedient members of his family. The only triumph a father can know is to have all his family back home. The only victory love can enjoy is the day when its offer of love is answered by the return of love. The only possible final triumph is a universe loved by and in love with God.
(William Barclay: A Spiritual Autobiography, 1977)